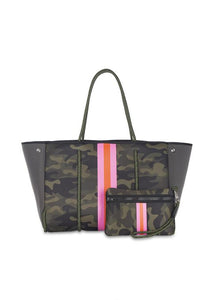 Greyson Showoff Tote
Green Camo/pink and orange stripe. This neoprene tote is the perfect blend of style and functionality.  Ultra light weight with side panels that expand for a phantom shape or snap in for a streamline look. Removable hard bottom liner and removable wristlet pouch.
-Washable with mild soap.  
Dimensions:
Bag Measurements: 18 wide (side panels expanded) x 12 inches tall x 10 inches deep
Pouch measurements: 8.5 inches wide by 6 inches tall